About Us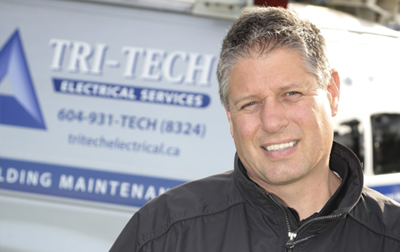 Tri-Tech Electrical Services (formally Randy Finamore Electrical Services) has being servicing the lower mainland for over 20 years. Our team of professionals can handle all types of electrical services and projects – Commercial, Residential and Industrial. We also specialize in Data, Tel, Control Work and Electronic Mobile Carriages and Lifts.
Our client list is varied including IKEA, Best Western, Strata West Management, RCMP, Dorset Reality, Rocky Mountain Chocolate, Budget, BC SPCA and more.
Our rates for both products and service are very competitive.
We are small enough to provide a prompt, personal level of service yet we have the experience to complete almost any size of project.
Our company philosophy is one of superior service and quality.
We would also like to inform you we carry Workers Compensation and are both bonded and insured.
We look forward to working with you.